USER FRIENDLINESS
DOCUMENT MANAGEMENT
RECORDS MANAGEMENT
COLLABORATION
SECURITY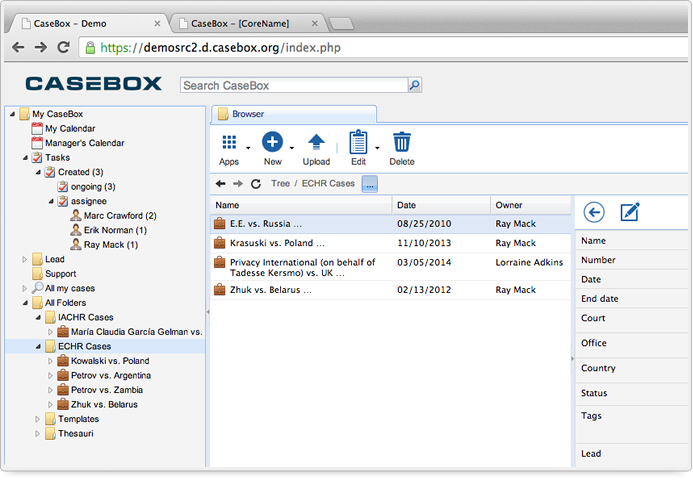 Work online with the comfort of your desktop. Familiar folders, drag & drop. Open as many files as you want and edit them with the programs you love.
Casebox interface is available in multiple languages out of the box, including Arabic, English, French, Russian. Users can switch between multiple languages in the same session. We can also provide the interface in Bengali, Burmese, Cambodian, Korean, Malayalam, Nepalese, Thai, Bahasa Indonesian, and Mandarin (Chinese).
Graphs and Charts

Take your cases and records and create lists, graphs, charts and maps. Autopublish content and statistics to web modules and tell your story on your website - live.

Drag and drop

Drag files from your computer and drop them into any folder in Casebox. Drag and drop from one folder to another just as in the Windows file manager.

Familiar folders

Organise your cases, projects, files, contacts and more in an intuitive folder tree that's just like your Windows or Mac file manager. But online.

Powerful Search with Filtering

Quickly filter through thousands of records to find what you need. Everything at your fingertips. We call it: Automagical.

Smart Folders

Smart folders automatically organise your data in the way that's most convenient for you. For example: by year, by case status, by office, by priority, etc.
Casebox is an amazing document management system. Edit in Word, instant preview, unlimited version control, metadata fields... everything you need to work easily with your documents.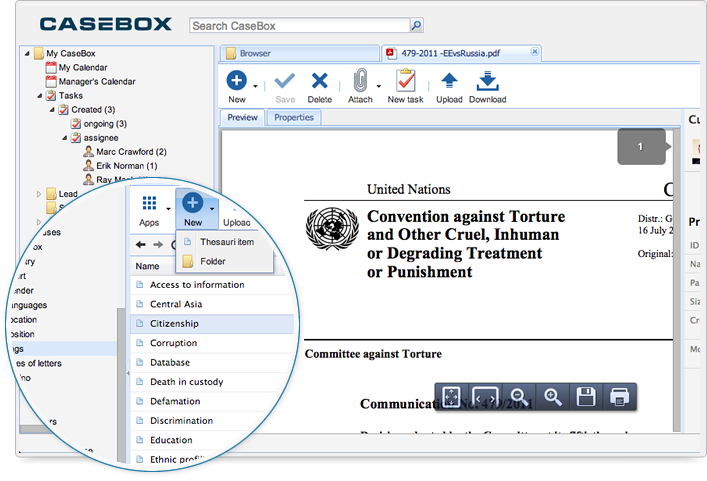 Document Preview

Open a tab and instantly read a document online (Word, PDF, JPG) without having to download it or open it with another application.

Edit in Word

Open a document directly in Microsoft Office or Libre Office, and save it back to Casebox as a new version. No need to download and re-upload.

Full-text search

Full text search of records and documents, including Word, PDF, PPT attachments. Filtering of results by any taxonomy field that is enabled (by office, by department, etc).

Multiple tabs

Work more efficiently by opening several views, documents or records simultaneously, each in their own tab, just like in your browser.

Undelete

Did you delete a file, a folder, a record, a task by mistake? No problem, deleted items are placed in the recycle bin and can be restored at any time.

Version Control

Upload a new version of any document. Previous versions are saved and can be opened and restored at any time.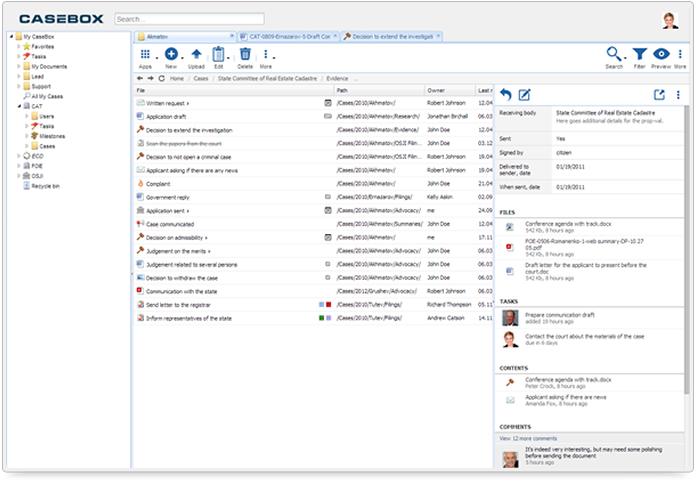 Add your own forms to Casebox. The powerful smartfolders and filtering make it effortless to find and update the records you need. And its blazing fast too: no click-and-wait like other apps.
Create your own forms

Build any kind of form – add all your existing forms to Casebox. Use forms to capture and manage information about cases, persons, services, grants, contacts, staff, projects, donors. Form builder included!

Forms with conditional logic

Build forms with conditional logic, meaning to display certain fields if a value is chosen in a preceding field.

Repeatable fields

Build forms with repeatable field sets, for example to add several addresses to a person or several contacts for a case.
Easily track all discussions and tasks related to a case or document, and always find them neatly organised for you. No longer waste time hunting through a sea of email.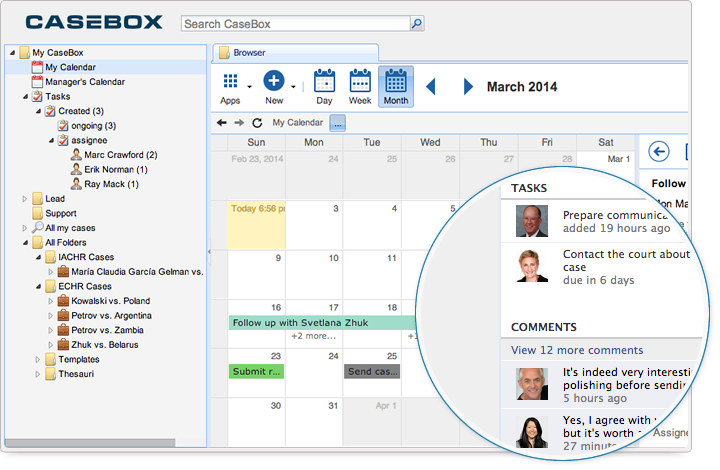 Calendars

Easily view all records with dates on a Calendar: next case review, task due dates. Never miss another deadline!

Comments

Comment every case, record, document or task. No more messy discussions by email.

Tasks

Assign a task to one or many users, track deadlines. Link tasks to cases, documents or any other record in the system.

Version Control

Upload a new version of any document. Previous versions are saved and can be opened and restored at any time.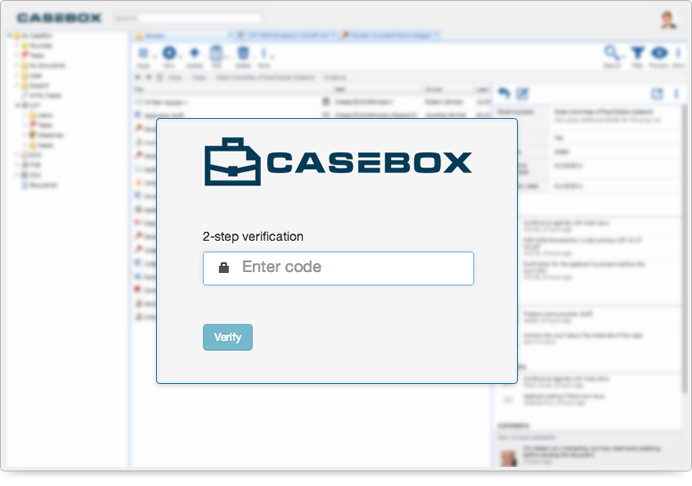 With regularly audited source code, two-factor authentication, and open source transparency, Casebox is an excellent choice if you are concerned about the privacy of your data.
No Sync

Syncing files across multiple devices is both messy and insecure. With Casebox all your files are locked in one location under your control: your server. And we made sure you don't need to sync, because our application is as comfortable to work with as your desktop.

Permissions

Control who can view or edit any files or folder in Casebox. Apply your access rules to groups or individual users. Share specific cases or documents with external legal counsels or project consultants.

Secure Login

Protect your login using two-factor authentication. We offer both Google Authenticator and Yubikeys.

Secure Hosting

We can provide secure hosting on encrypted server with SSL encryption of communications. A Virtual Private Network can protect the privacy of your communications even further.